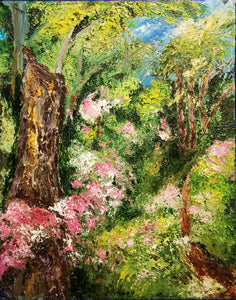 Original art oil with knife, no brushes, on stretched canvas 16x20

Email for price/availability of original painting: Artist@MonicaWellsArt.com
More blooming Laurels: cutting board, postcard, fleece blanket

Inspired by a spring hike in the Daniel Boone National Forest, London, Kentucky.
Every hike is an adventure packed with opportunities to experience nature with all of our senses. The peace found in nature has the power to open our ears to God's voice.
I am an artist addicted to being a wanderer extraordinary for all the gifts given when I choose to open myself to the childlike wonder that leads to discovery of the beauty living in life's simplest things.
In choosing to get lost on the trail I find all that is missing in my personal reality. Inspiration to paint, draw, create, share, and be reborn in my faith is what calls me back again and again. I encourage everyone to find their passion - that activity that unlocks beauty, wonder and love in every cell of your being. 
Blessing this image with the hope that all who see are moved to wander with an extraordinary curiosity that opens your mind and heart to touch the very best part of your soul!